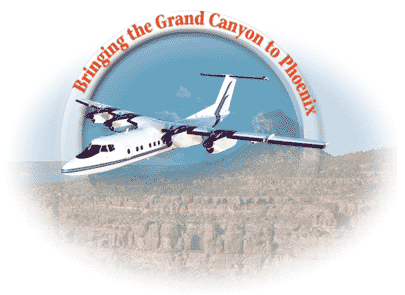 Planes, Trains and the Grand Canyon
... plus masked men and marshals on horseback



Story by Ron Kilber (rpknet@aztec.asu.edu)
Photography by Bob Shane (mach6pix@yahoo.com)




Reprinted from AIRLINERS magazine.

Pictures coming soon!



Although Farwest Airlines is a brand new carrier in 1999, its DNA had been lurking behind the scenes for more than ten years. In fact, little did Max and Thelma Biegert know that when they loaned money on a railroad right-of-way, they not only would eventually end up historic-train tycoons, but they would own their own airline, too.

Reviving the historic turn-of-the-century Grand Canyon Railway was the brain child of a man who not only borrowed money from the Biegerts, but made them secured investors of land needed to run the train. When the loan went into default status, well, to make a long story short, the Biegerts ended up owning the right-of-way on part of the rail route between Williams, Arizona and the train station at Grand Canyon National Park.

Only problem, the right-of-way lacked full value without a train to operate. So the Biegerts decided to buy an authentic steam locomotive. In September of 1989, Grand Canyon Railway began passenger service between Williams and Grand Canyon National Park. What better way to have a little fun than with a real Choo Choo train of your own?

As tourism to the Grand Canyon grew, so did the railway company -- with more than 300 employees in 1999 -- as more and more visitors learned of the opportunity to experience what was commonplace around the turn of the century, but no longer possible after 1968.

Then in June of 1999, Max and Thelma's Farwest Airlines began passenger service as a supplemental carrier from Phoenix to Northern Arizona, thus complementing Grand Canyon Railway by offering visitors an alternative means of transportation to experience their historic steam locomotive train.

Farwest Airlines currently operates a 50-passenger de Havilland Dash 7, which is powered by four Pratt and Whitney 1100-horsepower turboprop engines (PT-6) that can produce a cruising speed of 266 miles per hour and a climb rate of 1,200 feet per minute. The tail number is N701AC, serial number 18. The craft was purchased for something less than three million dollars. Previous operators included Air Wisconsin (1979), Southern Jersey Airways - "Miss Atlantic City" (1985), Pam Am Express - then Transworld Express (1989), Dash Airlines (1993) and Branson Airlines (also 1993).

The company plans to take delivery of a second Dash 7 during September of 1999. N703MG is serial number 103. Previous operators included Newmans Airways - then Ansett New Zealand (1985), EuroCity Express (1987), Logan Air (also 1987), London City Airways (1988), Paradise Island Airlines (1989) and Gulfstream International Airlines (1999).

The airline already employs seven pilots, with plans to hire more as Farwest eventually grows to not only accommodate 100,000 extra train passengers annually, but to bring them from other markets in California and Nevada, too.

Farwest's passenger counter and operations are located in Terminal Two at Phoenix Sky Harbor International Airport. Their maintenance facility and executive offices are situated on Memorial Field southeast of Phoenix on the Gila River Indian Community.

Max Biegert has been no stranger to aviation, having been a crop duster after World War II using a beloved Stearman bi-wing and, unbelievably, a B-17 Flying Fortress -- the first-ever four-engine aircraft used for aerial-spray operations. Biegert Aviation was formed in 1946, eventually converting a fleet of B-17s to accommodate many state and federal aerial-spray projects.

By 1975, Biegert Aviation modified a fleet of Douglas C-54s, which were used in an effort to help eradicate the Spruce Budworm from the pulp forests in the state of Maine and parts of Canada. The plague was conquered in 1982, restoring wood productivity once again to Northern Maine.

Biegert's next legacy was in 1982 with the development and manufacture of the Airborne Dispersant Delivery System, wherein environmentally safe agents are used as a first line of defense against oil spills at sea such as was caused by the Exxon Valdez in Alaska's Prince William Sound.

Today, Max Biegert is still active as a commercial- and instrument-rated pilot.

Farwest Airlines' president is Jim Jefferies who oversees all aviation personnel, equipment and maintenance facilities. Jefferies -- himself a pilot with airline-transport, flight-instructor and helicopter ratings (plus airframe/power plant) -- also is Biegert Aviation's president and CEO, a position he has held since 1980.

Jefferies was previously employed by Globe Air/Helitec in Mesa, Arizona, first as an electrical engineer, then as executive VP and a fixed- and rotary-wing pilot. Arizona State University (BSEE), the US Army and the Peace Corps account for the rest of Jefferies interesting career.


Planes, Trains and No Automobiles

One-hundred years ago, the only way to travel to the Grand Canyon in style was partly by steam locomotive and partly by stagecoach. Save for horseback or foot travel, there were no other ways to reach the South Rim, unless you followed in the oar-strokes of John Wesley Powell down the Colorado River, then too thick to drink and too thin to plow.

Now, a century later, we are nearing a time when there will soon be no way to travel to the Grand Canyon other than in that style which was enjoyed by adventurers three generations ago. Vehicular over-crowding has resulted in firm plans to ban cars, motor homes and buses from the park by the end of 2003. Where a deficit in technology 100 years ago ONLY gave tourists the opportunity to visit the Grand Canyon by public conveyance, too much technology today has led to the same situation. Tourists will have no choice but to leave their cars miles from the South Rim, forced to instead ride public transportation into the park (save for rafting, biking or hoofing it in).

But why drive at all? Why not just fly in comfort from the Phoenix area, then use the time saved to enjoy all the attractions available in and near the Grand Canyon? One such alternative for visitors who prefer to travel in historic style is to ride Grand Canyon Railway's steam locomotive train from Williams, Arizona, 65 miles south of the park. It's a way to experience today what those of yesteryear got to do at the turn of the last century -- complete with marshals who bring train robbers to justice.

Flying on Farwest Airlines

For me today, however, it just as well may be the year 2004 when cars are not welcome in the national park. Who needs an automobile at all when there's Farwest Airlines and Grand Canyon Railway? Just as our ancestors did 100 years ago, I'm now traveling with other tourists to the Grand Canyon entirely by public conveyance -- only we're doing it by air and steam locomotive.

It was only fifteen or so minutes ago when we departed Phoenix's Sky Harbor International Airport aboard Farwest's de Havilland Dash 7. Already I can see Sedona's terra-cotta rock from my window seat. This is a low-level flight, enabling us to see much of Arizona's terrain and noted locations. For example, Montezuma Castle is directly below us.

There's barely time for the crew to turn off the seat-belt indicator when we begin our descent for Flagstaff. In short order on what is just another hot day in Phoenix, we're on the ground in jacket-weather Flagstaff more than 7,000 feet above sea level (and glad I left my shorts in the desert).

Farwest's friendly ground crew escort us the few steps to our waiting van. While motoring west to the train station in Williams, we not only get to enjoy the 30-minute ride through the world's largest ponderosa-pine forest on the expansive, cool Colorado Plateau, but we have the company of our guides, Sharon Sleeper and Dawn Bascomb, who are entertaining us with interesting facts and genuine enthusiasm for having us with them today.

Actually, we're driving along side Route 66 -- the Mother Road -- forever immortalized by the TV series of the same name wherein Tod Stiles (Martin Milner) and Buz Murdock (George Maharis), a couple of wanderlust adventurers with a Corvette, provided vicarious experience for everyone to enjoy.

It's hard to believe, but only a little while ago I was in Phoenix. Now I'm here in Williams next to the train station and the Fray Marcos Hotel, watching an outdoor wild-west show, complete with gun-slinging outlaws and a Marshal. The bleachers are filled with hundreds more tourists who have arrived by other conveyance (even Amtrak), and we're all enjoying movie-set entertainment before we depart on the steam locomotive for Grand Canyon National Park.

Marshal John B. ("B good" or "B gone") Goodman

After the shoot-out, I'm lucky enough to command the attention of Marshal John B. ("B good" or "B gone") Goodman while walking to the waiting train. His size, demeanor, clothing and accent are authentic enough to convince children he's straight out of the past. One frightened little guy clings to his mother's leg as we approach. Even a grown female admirer is star-struck by the Marshal's presence when she requests his autograph.

During the last several years, tourism has produced economic activity and crowds at this train station far exceeding that which occurred from the economy when this station was first built in 1908.

While we're all boarding the train, the engineer and fireman are preparing the steam engine for departure. The oil-fired hot box has been heating water in the huge boiler to make steam, which will reach a working pressure of 200 pounds per square inch.

When the engineer opens the throttle, steam pressure is amplified more than a thousand-fold after the vapor is gated to the engine's two massive 27-inch pistons, which in turn apply force approaching a quarter-million pounds to move the drive wheels -- and the train. The signature "choo choo" is distinctively heard. Passengers without visual reference to the exterior don't even sense we're moving yet. It's that smooth of a take-off.

In automotive vernacular, the 2,500-horsepower steam engine has a combined cylinder displacement of 34,352 cubic inches (563 liters). That's equivalent to about 350 four-cylinder engines of an import car.

Riding The Train

What a charming way this must have been to travel for those in the previous century. Certainly more so than now where we have crowded airports, hordes of people and angsty personalities dominating the times. It's so hypnotic just listening to the rail click-clack while gazing out the window into forests and landscape. Not even the complimentary food and beverage can compete with the experience (even though I missed breakfast this morning). The sounds and scenes probably remain pretty much unchanged from those long ago times of cowboys, mountain men and trappers. As we round an uphill turn, the engine with tremendous billows of steam is in full view for every passenger to enjoy. Surely the experience is nostalgic for the senior population aboard, while for others what has been only vicarious through movies, television and books.

No amount of effort or expense has been spared to make the train ride authentic. From the white-gloved staff to Conductor Sandy Somyak's uniform, the experience has to be every bit as real as when the engine was new. The enthusiasm generated by our bartender, Melinda Gibson, for example, is contagious when she will only mix a drink for passengers after they can imitate -- vociferously -- the train's whistle. She's such a fun person, everyone wants to buy a drink from her.

At The Grand Canyon

When the train enters the South Rim village, passengers are getting their first-ever glimpse of the Grand Canyon. Who knows where everyone is from, but certainly many are from foreign lands.

At the South Rim the Grand Canyon is some twelve-miles wide to the North Rim. One of the Seven Natural Wonders of the World, the Grand Canyon stretches northeast to west as far as the eye can see. More than a mile deep is the Colorado River, which snakes 1,450 miles from the Rocky Mountains in Colorado all the way to Mexico. A hundred miles upstream, the Glen Canyon Dam holds back water creating Lake Powell whose shoreline surpasses in length that of the entire US Pacific Coast. More than two-hundred miles downstream is Hoover Dam, majestic, forming Lake Mead, and then Davis Dam and Lake Mohave, and farther on is Lake Havasu and Parker Dam, and finally through Yuma and beyond the Mexican border is the Mouth of the Colorado River, which empties into the Sea of Cortez.

After disembarking at the train station, many passengers board a bus for a tour of the park, while others prefer to walk or hike. I decide to break, instead, from the crowd to watch the engineer and fireman turn the train around. Both are heavy-set men, complete with coveralls and black boots -- one wearing the requisite pin-striped cap. Train aficionados would have a hard time identifying Casey Jones if he were in a line-up with our engineers today.

Sam Lanter, the engineer, even lets me go along for the ride with him inside the steam engine as he and his fireman, Charles Robert Peartree, orchestrate the feat, which isn't something any engineer can do alone after attending train-driver school. Quite the contrary, it takes an entire crew of eyes to turn the train around in order that collisions are avoided with vehicles and pedestrians.

It's a simple process, however, of backing the train from the station onto perpendicularly connecting tracks, then moving forward to turn onto the main line in the direction of Williams. Once the Kokopelli car (the last one) clears the intersection, the engineer reverses the train again, backing to the station. Now the cars are ready to depart when all the passengers return.

Lanter is more than just familiar with our engine, number 4960. Not only had he been intimately involved with rebuilding this legend, spanning three years and 1.5 million dollars ($27,000 new price in 1923), but he also worked for the Bristol and Northwestern Railroad when it owned 4960 during the early eighties in Virginia.

Just when I figure the crew will go to lunch (so I can maybe tag along to ask lots of questions), they surprise me when they uncouple the engine from the cars. In a heart beat we're choo chooing onto the same spur used to turn the train around. Maintenance must be performed on the engine, and water taken on to replace the 11,000 gallons vaporized to get us here today -- enough to fill a backyard swimming pool.

What a fascinating piece of machinery. Given the historical significance of any steam engine, it is a blessing for everyone that Grand Canyon Railway is not only preserving history, but demonstrating it, as well.

Thinking I may now just be in the engineers' way, I decide to hike back to the train station where I climb the stairs and hill to the El Tovar Hotel, which is situated right on the edge of the Grand Canyon.

In the driveway of the historic hotel is a couple loading luggage into the trunk of their luxury car while their two young boys are not grabbing their final peer into the canyon, but instead fighting over an electronic game in the back seat.

Moving to the Canyon's edge, I can see the steep, winding Bright Angel Trail, which begins a short distance west, descending Ó la switchbacks, with frightening drop-offs, a distance of 4.6 miles to Indian Gardens where it continues on down to the Colorado River to a foot bridge (mile 7.7) and a short distance more to Bright Angel Campground (mile 8.5), then Phantom Ranch (mile 9.8). There, the bottom-of-the-canyon oases are perfect for rest and recreation before resumption on the 10-mile, butt-kicking, always-another-switchback hike to the village above or, alternatively, to the more than a 1,000-foot-higher North Rim (mile 23.8) via a 14-mile-long trail, which averages ten percent in grade with many places much steeper.

After lunch in the nearby Arizona Steakhouse, there's time for a little hiking before I trek back down to the station where I find passengers already boarding train cars.

The Great Train Robbery

The train ride back to Williams is every bit as relaxing and fun as it was this morning. That is, until we're 30 minutes or so from the station. That's when I notice masked men on horseback riding through the trees on the left side of the train. In short order there're on board demanding money and valuables from passengers who are surprised, excited -- some even terrified and crying. One little guy is ready to crawl under his mother's seat to hide forever. The bandits navigate the train from one end to the other, only to have onboard Arizona Ranger Barge McCool parade them all the way back to the front of the train after he arrests them. Adults enjoy the show as much as children do -- testament of the professionalism and enthusiasm the cowboy performers have for their passengers. Is this a great time or what?

Back at the station in Williams, I've plenty of time to check into the Fray Marcos Hotel where I settle in and rest for awhile. The hotel is owned by the rail company, adjacent to and only a few footsteps from the train station.

Then I'm off to Max and Thelma's Restaurant (as in Max and Thelma Biegert), also owned by the train company adjacently situated to the station, too. The theme today is Mexican food on the buffet line. Even though I've been a long-time Southwestern resident, I elect to order salmon from the menu, instead. I guess I'm more impressed with what the restaurant's French-trained chef may do for fish than enchiladas or rice. And what a delicious choice it is, complete with a dark green salad and colorful sautÚd vegetables. Not only is the fresh fish prepared to perfection, but the portion is more than large enough to satisfy someone whose been up since way early this morning. Outback, step aside!

It's been months since I've slept with my windows open (to do this in Phoenix during the summer, you have to own an electric utility company), so I decide to treat myself to the cool, forest air while I sleep in my upstairs room more than a mile above sea level. I fall asleep to television and Clint Eastwood's "Joe Kidd". The movie features a Mexican-American War-era steam locomotive train crashing through a saloon. How ironic!

After a great night of sleep, Dale Goode and Audrey Greer have coffee ready at the front desk. They're more awake than I am. It's a good thing they are, because they remind me that I only have thirty minutes for breakfast before the van arrives to deliver the air passengers to the airport.

So I hustle to Max and Thelma's where they have the best French toast and bacon I've had in ages. There's plenty of other food, buffet style, if you get here with enough time to eat it.

Charles Bassett is the Flagstaff station manager for Farwest Airlines, but his title doesn't prevent him from driving our van to the airport -- and entertaining us on the way. He comes from a colorful family of railway men, and had an uncle who served as a vice president of the Sante Fe line. Having grown up in Williams, Bassett is well versed with the history of trains, local geography and interesting characters who first blazed this territory such as Captain Bucky O'Neill who became a member of Teddy Roosevelt's Rough Riders in Cuba where he was killed in 1898 at the battle of Kettle Hill.

By mid morning, Farwest's Captain Jim Powell and First Officer Ray Stapley have us safely back at the airport in Phoenix.

In retrospect, it's amazing how much I've done since I first left early yesterday morning. Had I traveled by automobile, instead, to the train station in Williams, not only would've it required an extra day of driving (maybe two), but an extra night in the hotel, as well. Farwest Airlines definitely saves one a lot of time, not to mention the money spared on extra hotel nights and restaurant visits pays for the flight.

There IS one way this Grand Canyon excursion could have been better. That is, if I had been able to disembark the train at Anita (the end-of-the-line for the train a century ago) to ride a stage coach the remaining 20 miles to the South Rim with interesting characters like Jingles at the reins (Andy Devine) and U.S. Marshal 'Wild Bill' Hickok riding shotgun (Guy Madison). Who knows, maybe they'll add that opportunity before I return next tine.


Farwest Airlines currently offers from Phoenix a day and overnight tour to visit the Grand Canyon and the historic train. For prices, schedules and additional information, visit them on the Internet!
http://www.farwestairlines.com
Or call 1-800-843-8723
---
Copyright (C) 1999 Ron Kilber All rights reserved.