Sunday Brunch at Payson, Arizona
Ron Kilber (of "Alaska Flying Sabbatical" fame) offers this narrative of his day-trip to one of Arizona's favorite $100-hamburger getaways (or omelettes or Belgian waffles if you prefer) situated at the 5,000-foot level at the base of the majestic Mogollon Rim. The airport restaurant offers tasty food and a panoramic view.
by Ron Kilber (rpknet@aztecfreenet.org)
---
Sunday, January 10, 1997
Today we are flying from Chandler Municipal Airport to Payson, Arizona, where there is a nice little airport with a reasonably good restaurant right on the field. I'm joined today by Genette, my best friend and companion of many years, her 15-year old son, Mark, and my daughter, Dawn, a long-time co-pilot on many an aviation adventure with me.
Payson is a small, bedroom community 60 nautical miles northnortheast of Phoenix, Arizona and is situated below the Mogollon Rim, a huge, prominent fault that traverses much of Arizona from the northwest to the southeast. Terrain on the Rim is 7,000 feet and higher, while the terrain below where Payson lies is 5,000 feet, give or take.
Genette bought a new video camera this last Christmas, and Mark's job today is to be the photographer. When it is time to leave for the airport, Mark is still sitting at the keyboard of the family Pentium, and I'm not entirely convinced he has all that much interest in flying with us today. Never mind that Mark has never flown in a small airplane before. He is a computer mouse-potato, and probably developed the disease the day the computer arrived from the store just before Christmas of 1995. In my opinion, he has been in need of a 12-step program ever since. In fact, his once heavily-used basketball hoop hasn't seen a ball in more than a year, and all of his yard-maintenance clients have given up on him and switched to commercial services, save for one. So much for technology (I think the Unabomber made some good points in his manifesto about the evils of technology).
Off to the Airport
When Dawn arrives from North Phoenix where she lives with her husband (poor guy has to work today), we don't have much time left, so we immediately depart for the Chandler airport (with Mark in tow). Venture Aviation is already refueling and preparing N734GY, a Cessna 172. Mark immediately assumes his role as photographer, and I notice that the first thing he puts in the view-finder is the outdoor soft drink machine. Genette steers him to video-tape my preflight activities, and not wanting to miss a single thing now, he follows and video-tapes my inspection from a distance as I move around the airplane. Only thing is, his attention is in the veiwfinder, and when we hear a thump, it is Mark's head making contact with the wing of a Cessna152 next to us. Fortunately for him, he does not bump the sharp trailing edge, but the blunt leading edge.
By 10:30 AM we are all in the plane and I'm yelling to clear the prop. Chandler ground directs us to runway 4L, and after a brief wait for traffic on final, the tower clears us for a straight-out departure. Lift-off is smooth as silk, and even though we are 50 pounds from gross, 4GY climbs hardily as we sneak between the control zones of Falcon Field and Gateway Regional Airport.
The air is dry and the wind is calm; visibility appears to be unlimited, and the surface temperature is 70 degrees. After viewing the Arizona satellite image on my computer early this morning, I did not even bother to obtain a weather briefing.
I'd have to look in my log book to tell you how many times I've flown to Payson. Most times it was for breakfast or lunch, with the remainder times just to get out of the furnace heat of Phoenix during the summer.
Magnificent Scenery
As we skirt past the famed Superstitions Mountains, Weavers Needle comes into full view. It is a double rock spire, and the taller one reaches to 5,000 feet, and has been a famous landmark since the days of the Lost Dutchman Gold Mine more than a century ago. Also, it is a classic ascend for rock climbers from around the world. Two years ago a friend and I climbed it, and it is breathtaking to now view Weavers Needle from this new perspective. Having been there on top, it's sort of like viewing your own home from the air. You already know the details, but they are not apparent from an airplane.
As we generally follow the highway to Payson, we can see snow on Four Peaks and the remnants of the serious forest fire which ravaged the area early in the 1996 fire season. Soon, Thoedore Roosevelt Lake is in full view, and it is not long when we can see the community of Payson in the distance and the unmistakable Mogollon Rim. Also, the San Francisco Peaks are in full view on the northerly horizon more than 100 miles away. Indeed, it is a very clear day.
The terrain below us is formidable, primitive and not very forgiving of many trespassers--especially aircraft. One's only chance for a dead-stick landing here is the winding road below us, or small valleys here and there. I'm fully aware of the risks associated with mountanous flying, and today I minimize them with altitude and a prudent course of flight. You snooze here and you lose.
As we get closer to the Payson airport, I point out to Genette our place on the Mogollon Rim where she and I camped three summers ago. It's a place where we drove right to the edge of the rim and car camped. There we were, perched high on a cliff among mature trees, and we had the perfect balcony with thousands of miles of natural amphitheater. The view was incredible, and at night we could see city lights from small communities as far as the eye could see. Camping is especially popular during the summer months on the Mogollon Rim where the altitude is high and the temperatures are way cooler than in Phoenix.
A Popular Destination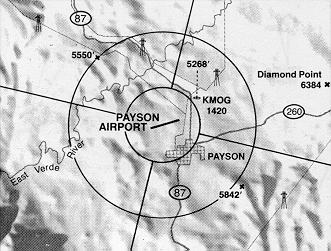 For a small community, Payson has a lot of air traffic on weekends, owing to the many who fly in from the Phoenix area for breakfast and lunch. Before I turn downwind for runway 24, there are four take-offs and two landings. Snow is blanketing the neighborhoods everywhere, and it is apparent that someone made a great effort to clear the runway, taxiway, and parking areas. The green pine trees, the mountainous terrain, and the snow make for a beautiful setting, and it's all in sharp contrast to the desert we left behind less than an hour ago.
(Graphics courtesy of Pilots Guide to Southwestern Airports)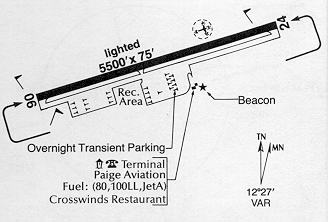 Payson Airport has a field elevation of 5157 feet MSL (check density altitude!) and is sort of on a plateau, at least when approaching from the east (prevailing winds are from the southwest). Something I never want to do is land short if I loose an engine, so I always like to come in a little high when approaching a plateau situation like this. When I'm certain I can make the field without power, I begin a slip to bleed the altitude I used for a safety margin. I want to make the first turn-off to the restaurant, but the sun is strong and thermals are on the runway, and I float almost to the first turn-off, even though I slipped her right to the numbers. The touchdown is perfect, and when we are clear of the active, my passengers compliment me for my landing skill (they are oblivious that I wanted to make the first turn).
Never missing a moment to tease his mother, Mark makes a snowball and throws it at Genette. She retaliates with her own snowball, and by the time we are seated in the restaurant, Genette tells Dawn and me that Mark hit her four times with snowballs.
Tasty Food, Plus a View
The food here is good and reasonable, and the service is prompt and friendly. And the view is literally out of this world--glass windows extend the length of the restaurant, and we have full view of the runway while we watch airplanes take off and land. The Unicom monitor in the restaurant is interesting. Even the cook can hear when hungry pilots and passengers line up on final, and I suppose there's no reason why this can't be his early-warning-system method to know when to put more bacon on the grill.
I'm wondering where the old weather station is that used to be here some years ago when this restaurant was just a single-wide mobile home. You could look out the window and see a rock hanging from three stakes which formed a tripod. The small sign read something like this:
rock moving--windy
rock wet--raining
rock with shadow--sunny
It was amusing then, and as I describe it for Genette, Dawn and Mark, it is amusing to them now.
The girls have vegetarian omelettes, Mark has brain food--a Belgian waffle with bananas and whipped cream, and I have bacon and eggs with potatoes and toast. Whenever I fly I get so hungry that I could actually order and eat two meals. I prove it today when Dawn and Genette can't eat all of their omelettes meals, and I do everything but lick their plates. Even after all that, I'm still hungry, but I decide to tough it out and not eat anymore.
Once outside and back in the snow, Mark resumes his snowball attacks on Genette while I pre-flight again. Only when he fears that he might be left behind, he ceases his antics and remembers his photography job. Dawn produces her cell phone and calls her husband at work, but he is too busy counting pills in the pharmacy to chat. At least she gets to say hello, and for that she is happy.
Time to Go
I clear myself for takeoff on 122.8, and by the time we reach the restaurant turn-off, we are already flying. Within minutes, we are clear of dangerous terrain and flying 2,000 feet above lower ground to the south. It isn't long before we are over Theodore Roosevelt Lake to the southeast, and then heading westerly down the Salt River towards the Superstition Mountains. We fly right over Weavers Needle, and now the trail and climbing route to the top are in full view. Next we pass over Siphon Draw, and Genette now recalls the grueling hike she made with me three years earlier when we hiked from the Lost Dutchman Park to the plateau on top of the Superstition Mountains. Minutes later we are on final to Chandler Municipal, and, of course, I impress my passengers again with another greased landing.
In the car on the way home, we can not find a single thing wrong with the day. Everything went so perfectly (well ok, Mark has a slight bump on his head), and I'm so grateful for the opportunity to enjoy so much happiness on this wonderful planet we call earth, and thankful we had a safe day. Life is beautiful.
---
Copyright 1997 Ron Kilber. All rights reserved.

Ron Kilber (rpknet@aztecfreenet.org) is a private pilot who lives in Tempe, Arizona.
---
Sign My Guestbook
View My Guestbook
Back to Ron Kilber's Aviation Page
This page was last updated Tuesday, May 06 1997.
---